When you hear the word gas do you automatically think safe and biodegradable? Most people don't, that's why RW Solutions, LLC is introducing the World's first and only biodegradable emergency fuel, SPARE FUEL®.
SPARE FUEL® provides the best answer to the second largest cause of roadside breakdowns while eliminating the unsafe feelings that many individuals experience when they run out of fuel in their cars or trucks. Running out of fuel is never fun and sometimes can be dangerous or very costly. This solution is an inexpensive way to stay safe on the roads and also put your mind at ease.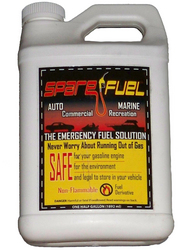 On Sale for $19.99 for August
Did you know that carrying gas in your car is potentially deadly even in the smallest of traffic accidents and in extreme heat? It's not only unsafe, it's illegal in some states, the alternative is SPARE FUEL®, and it's completely safe and will not explode in even the most extreme conditions.  SPARE FUEL® should eliminate the FEAR and DANGER from being stranded without a quick emergency backup plan. SPARE FUEL® is the only safe answer to "Running Out of Gas" in any gasoline powered vehicle, boat, motorcycle, or internal combustion engine and is protected by five (5) US Patents. Have peace of mind and carry SPARE Fuel®.
"I only wish there were more guys out there like you. I'm truly amazed that someone hasn't come up with such a great idea before." says customer Richard Bechtold. Sparefuel.net launched officially on July 1st, 2010 to rave reviews and Spare Fuel will be sold in the lower 48 states here in the US.    SPARE FUEL® was developed by Rick Jones a retired executive whose career was with both Shell Oil Chemical Corporation and Amoco Chemical Corporation. "If you have a spare tire, why wouldn't you have Spare Fuel?" says CEO Rick Jones.